Solar Panels for your business
If you are interested in solar PV and the benefits it could bring to your business, then please contact our expert team for some advice.
Livestock Centre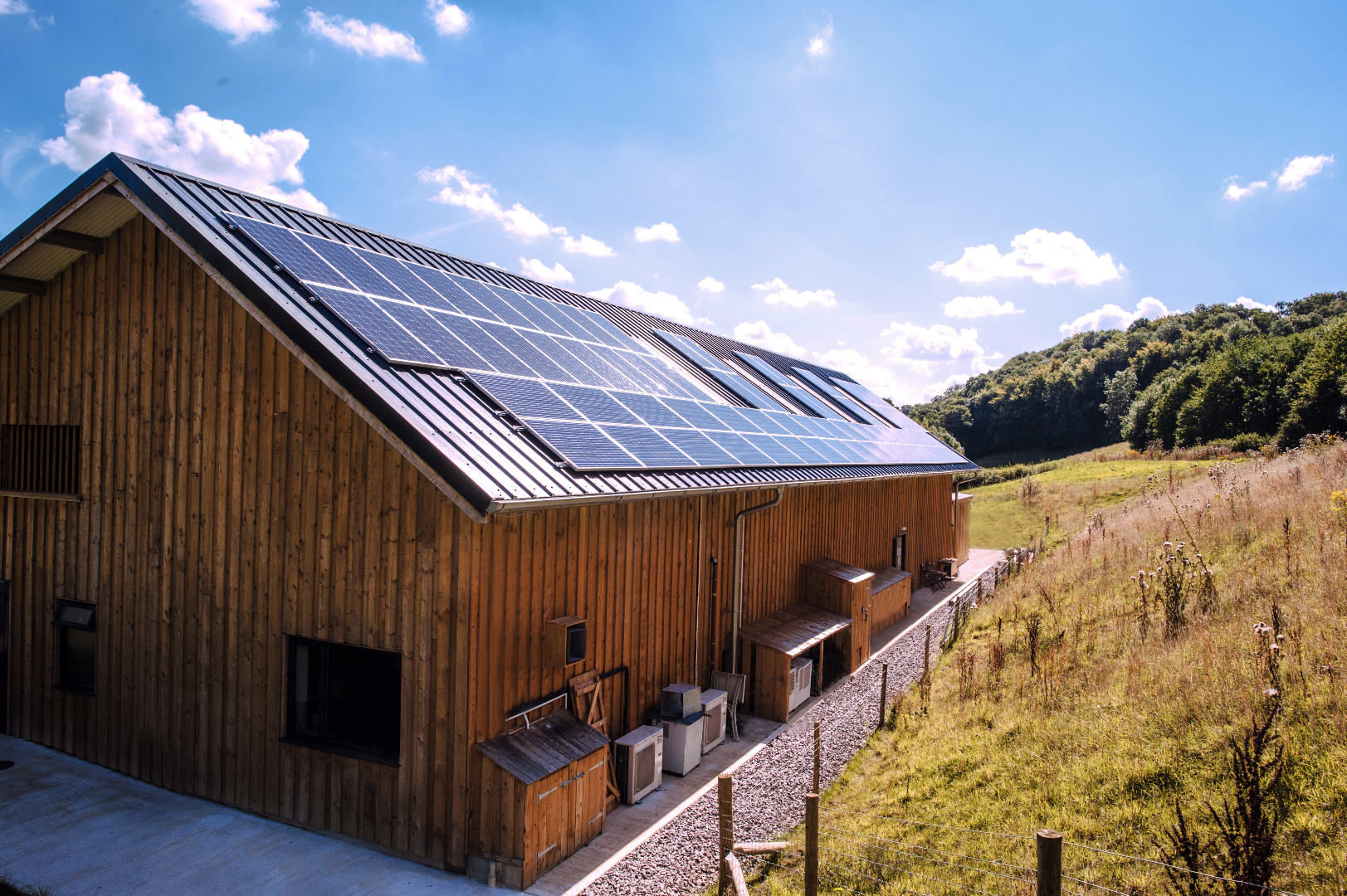 Expert Installers
Multi-award winning solar PV installers based in Devon. Covering the whole of the UK.
Hanlons Brewery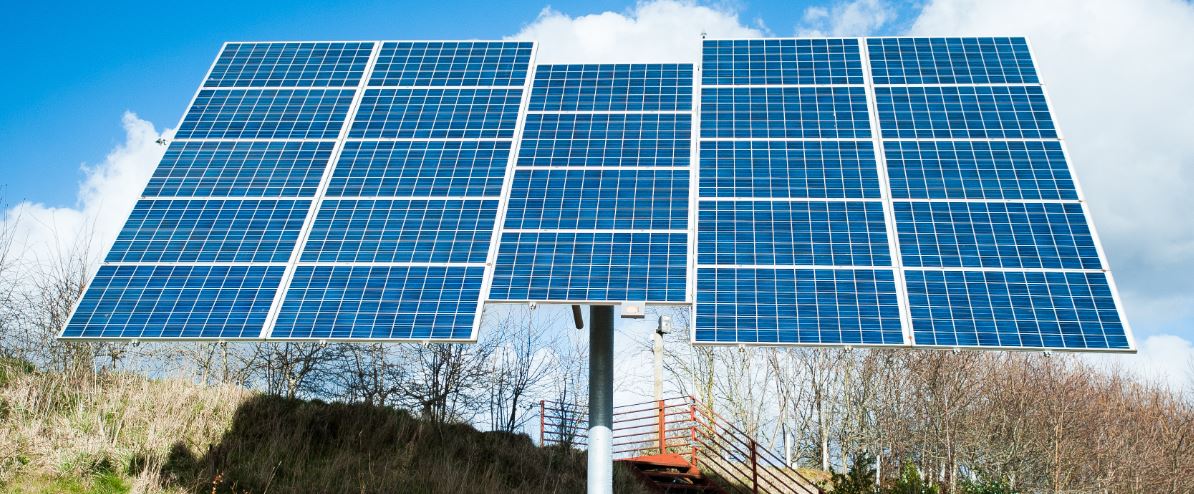 Ground Mount solar PV
Perfect for landowners and agricultural premises to generate more income.
Darts Farm
Reduce your business's energy bills with solar PV
Installing solar panels can be a significant step for your business.
Our customers generally choose solar PV for its financial benefits, including lower energy bills, protection from rising energy prices and reduced reliance on the national grid.
But, businesses are starting to see the advantages of reducing their carbon footprint too. This is great for the environment, but it also enhances green credentials and reputation. A survey by Orsted has shown that 73% of UK consumers are more likely to choose companies that use renewable energy over those that don't. So, why not bring your business into step with the flourishing green market?
To ensure you get the best system available, you'll need a trusted installer. SunGift was founded in 2005 and has withstood the test of time, overcoming many of the challenges inherent within the industry. The quality of our work has been continually recognised over the years, receiving numerous awards such as the prestigious Installer of the Year at the Solar Power Portal Awards, among many others.
We've worked on a wide range of installations over the years, from systems that help small businesses and SMEs lower their overheads, to larger megawatt-sized systems for national companies. We've carried out work for councils, schools, community energy groups and everyone in between. Each of our customers benefit from our extensive knowledge, years of experience and honest advice, and their bespoke system will be expertly designed to suit their energy needs.
Our experienced team will guide you through the whole process, from assessing your energy usage and advising on financing options to installing your bespoke system.

TO BOOK A NO OBLIGATION SURVEY CONTACT US ON 01392 213912 or info@sungiftsolar.co.uk
What you can expect from SunGift
Why we're the best solar installer for your business
Award-winning
By constantly pushing the boundaries of innovation, quality and customer care we are frequently awarded for our work.
Years of experience
Our team comprises industry experts, many of whom have extensive experience in the sector. Our founder, Gabriel Wondrausch, is well known within the industry, having been a part of it since 2005.
Highly recommended
We come highly recommended from prestigious clients including Gregory Distribution, Tesco, the MET Office, Numatic, Stagecoach,  Virgin Media and Western Power.
Bespoke solutions
Your system will be designed to fit your unique physical requirements and energy demands, so your business can benefit for years to come.
Expert craftmanship
Our NICEIC, MCS and CHAS accreditations ensure that the system you receive is of the highest quality. We also offer workmanship warranties, for added peace of mind.
After care service
Our dedicated after-care and servicing team will help ensure that you get the most out of your system over its lifetime.
Time management
It's important to choose an installer that can work to your project's deadlines. At SunGift we have a dedicated project management team and full back-office support, ensuring your project stays on schedule.
Consultancy-led service
Our team will explain all your options in an open and honest discussion. You will feel confident that your proposed system is the perfect solution for your energy needs.
How can solar PV help your business?
Immediate reduction in your energy bills
Increased energy independence and protection from future increases in energy costs
Good return on investment
Improved green credentials and Corporate Social Responsibility
Reduced reliance on fossil fuels and reduced carbon emissions
Help complying with energy efficiency legislation and supply chain requirements
SunGift installed a 23.5kW solar PV system at Boscastle Farm Shop, cutting energy costs and reducing their carbon footprint.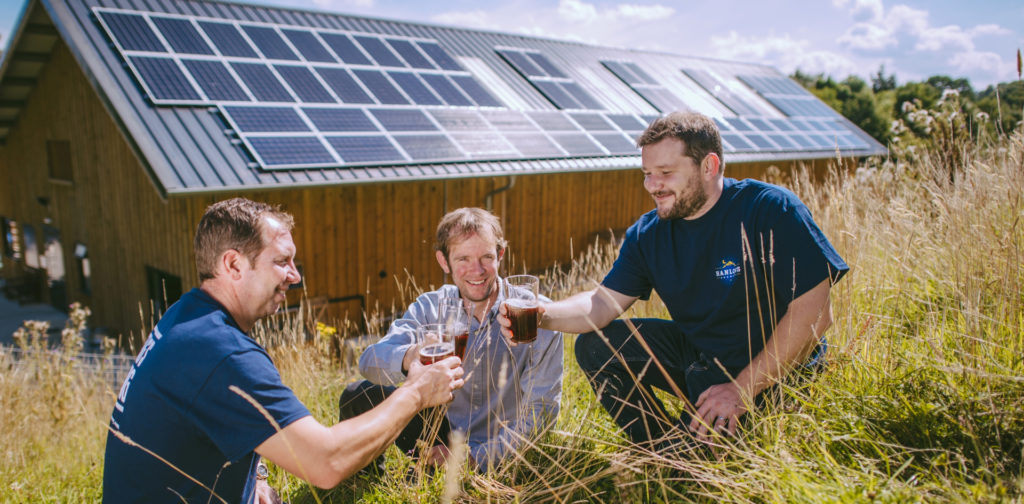 Hanlons Brewery, 21 kW, 2015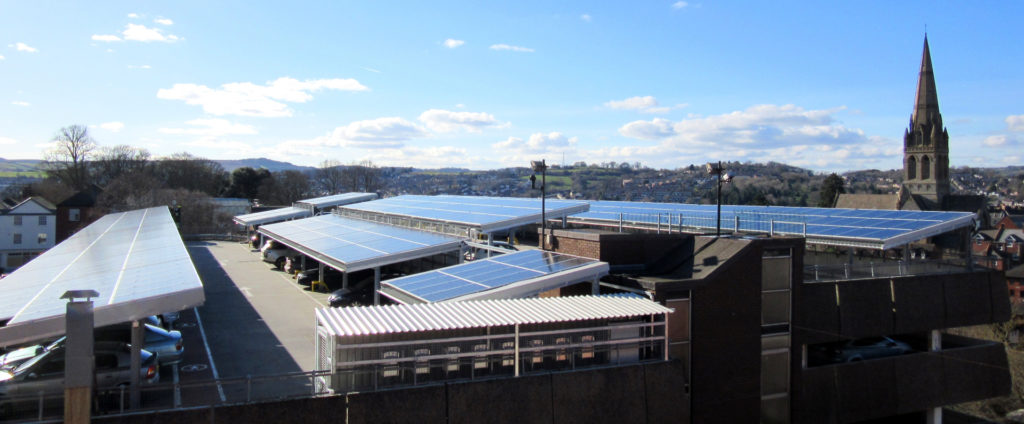 Award-winning City Carports, Exeter, two sets of 150 kW systems, 2015



Livestock Centre, Exeter, 1.5 MW, 2015
Finance options
Over the years we've worked on PV systems with a range of funding requirements, and as your chosen installer we can be flexible to meet your needs. We can work directly with your chosen funding or power purchase provider, to ensure your transition to clean energy is as smooth as possible. We have worked with Lombard, for example, on several previous installations.
Purchased outright
Using business funds to purchase a solar PV system will offer the highest return on investment (ROI), and shortest payback period. With no loan interest involved you can directly compare the internal ROI with other purchases you may be considering. The ROI will always depend on numerous factors such as location or orientation, but you can expect an annual return of anywhere between 10 to 25 percent from your commercial PV system.
Financed
By taking out finance to pay for a PV system you can spread the purchase cost over several years. Interest rates will vary depending on your business's circumstances, credit standing and who you choose as your funder. Excluding the initial outlay your cash-flow should remain positive. Our customers report that by spreading repayments over a 6 or 7 year term, loan repayments are generally covered by the income and savings provided by their solar PV. With a predicted system lifetime of at least 25 years, you can look to enjoy a good rate of return once your system is paid off.
Put simply, from the moment the system is switched on you can reduce energy bills without increasing monthly outgoings.
Fully funded or power purchase agreement

Don't have the capital to invest in solar but want to reduce your energy bills? A Power Purchase Agreement (PPA) may be the solution you're looking for. The system can be installed at no cost to you, with no finance agreement, no deposit and no loan, as your chosen PPA provider will finance the installation. Your roof effectively becomes a micro-generation facility whereby you allow it to be used to generate electricity from solar PV in exchange for cheaper daytime electricity. At the end of a 20 year term, the ownership of the system is transferred to your business and you can enjoy free electricity for the remaining lifetime of the system, which is likely to be around a further 15 – 20 years. Most clients choose this option, however, for the benefits of cheap electricity at no capital outlay.