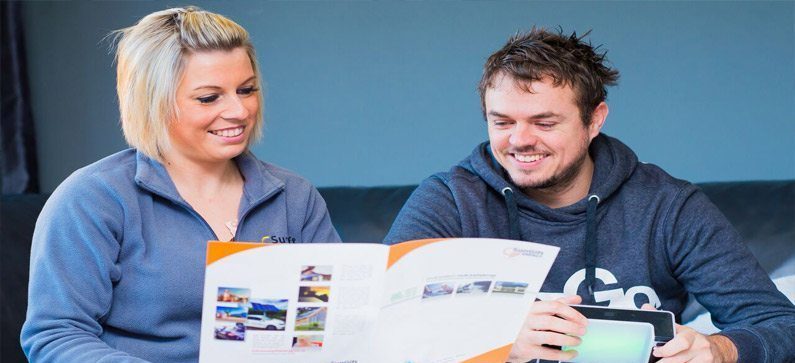 DOMESTIC
Frequently asked domestic questions
At SunGift, there's no such thing as a stupid question.
It's important that you're comfortable making your green investment. So, just ask! If your question isn't covered here, please contact us
What happens to our solar panels if we move house?
If you decide to move house the benefits of your solar PV system will usually be passed on to the new owners, along with the rest of the house.
You'd expect the price you are offered for your house to reflect the value  that your solar panels add. If you feel that this isn't the case then it's possible to move the panels to a new location. However, whether it is financially viable will depend on the circumstances and it's also not possible to take any Feed-in tariff with you.  Feed-in tariff payments are usually linked to the property, and not the occupant.
Do I need a special meter?
As part of the MCS requirements for a PV system we need to install a Total Generation Meter (TGM). This allows your electricity production (in kWh) to be recorded and the generation of your system to be metered.
Otherwise you don't have to have a special meter for your solar installaton but to be paid for the energy you export under the Smart Export Guarantee, you'll need a smart meter. This needs to be installed by your export tariff provider.
Does having solar PV mean I don't have any electricity bills?
As your PV system uses daylight to generate electricity it can only produce power during the day. You will still need to buy electricity from the grid to cover your usage at night and at times when the system's production is lower than the usage in the house.
A battery system can make a significant impact on the amount of solar power that you are able to use. However, you are still likely to need to import energy from the grid during the winter months and periods of poor weather. To understand more about how solar panels and a battery can work together have a look at our blog.
Is there any disruption when my electricity usage changes from the PV supply to grid connection?
No. There is no disruption to your supply whatsoever. There's no switch you have to turn or button you have to press. The changeover is done automatically, and the transition is so smooth that you won't even notice it happening.
How do I get the most out of my PV system?
The key to making the most of your PV system is to ensure that your consumption matches your generation (if you don't have a battery). All systems are slightly different, but if yours is south-facing then it will produce more electricity in the middle of the day, when the sun is highest. To take advantage of this, you should now use energy intensive appliances such as your washing machine or dishwasher. Time delays on such appliances will help improve your self-sufficiency.
Make yourself familiar with your Total Generation Meter. On sunny days you will see the red light on it flashing quickly. The quicker it flashes the more electricity you are producing. When you see it flashing quickly you will know that it's a good time to turn on your high demand electrical appliances. Many inverters have built-in monitoring systems that allow you to see whether you are using energy from the national grid or from your solar PV system.
What happens to the electricity produced by my solar PV system?
The electricity from your PV system will always be used in your house if there is a demand from your household appliances. If you do not have a battery, and the PV is producing more energy than you are using, the excess will automatically be exported to the National Grid. Find out more about this in our Smart Export Guarantee blog.
If the PV is not producing enough energy to meet the demand from your household appliances, electricity will be drawn from the grid to supplement the supply. Your Total Generation Meter will measure the total amount of electricity being produced by the PV system.
What guarantees come with my solar panel system?
We offer a five year workmanship warranty for solar panel systems as standard. Product warranties vary between manufacturers. Solar panels come with a performance guarantee over the course of 25 years and a product warranty of at least 10 years. Inverter warranties can be between 5 to 12 years and mounting systems are usually around 15.
Better quality modules usually guarantee a lower rate of degradation and a longer product lifespan. Extended warranties are also available.
How long will my solar panel system last?
Although most panels are guaranteed to last for 25 years (see above), realistically their lifespan will be much longer and they'll still be producing usable electricity after 40 years. But, after this time their performance will be notably lower than when first installed. It's also important to be aware that the inverter may need replacing during this time. Its sensible to budget for a replacement inverter over the lifetime of your system.
Is planning required to install a solar panel system?
Most domestic sized systems come under something called "permitted development", which means that as long as the system is installed according to certain criteria no permission is required. The criteria are:
panels should not be installed above the highest part of the roof (excluding the chimney), and should project no more than 200mm from the roof slope or wall surface.
the panels must not be installed on a building that is within the grounds of a listed building.
the panels must not be installed on a site designated as a scheduled monument.
if the system is wall mounted and your property is in a conservation area or a World Heritage Site, the panels must not be fitted to a wall which fronts a highway. If the system is ground mounted, or within a conservation area or national park, it's also worth checking with the local planning authority.
You will need to consider your specific property and whether there are restrictions where you live.
How much space do you need for a solar panel system?
Generally speaking, for every 1kWp installed you'll require about 5.6 square metres of roof space. Most domestic systems are sized between 3-4kWp, requiring 16.8-22.4 square metres of roof space. For those projects with limited space, it is possible to reduce the area to around 4.4 square metres per kWp by using higher powered panels.
Do solar panels have to be mounted on a roof?
No. Solar panels have a range of mounting options, although roof mounted systems are the most common. Mounting them on a frame on the ground is also frequently used when the roof is not ideal. Mounting them this way will often achieve a better performance than roof mounting the system, as the pitch and orientation of the panels can be set so as to achieve an optimum yield. To understand more, have a look at our ground-mount page.
Do the solar panels have to face south?
No. Although south-facing is the optimum orientation for solar panels in the UK, you can still get a good return if your system doesn't face south. A system facing east or west can produce as much as 85% of the electricity generated by a south-facing array.
If the sun isn't shining will I still get electricity?
Yes. Solar panels are photovoltaic, and as such they do not need direct sunlight in order to generate electricity. However, your solar panels will produce less on a cloudy day than on a sunny one.
Do solar panels require maintenance?
Although solar PV systems are designed to be "plug and play" we would recommend that you have a service every 2-3 years or so, just to make sure your system is running at its best and to catch potential issues early. Most manufacturers include stipulations in their warranties that require systems to have a periodic service check. It is also quite commonly suggested by industry bodies.
Will the panels on my roof be damaged by strong wind or hail?
As part of the MCS accreditation process all solar panels are required to pass wind and hail tests before they can be sold commercially. The modules that we supply have all been tested at levels that exceed the conditions found in the UK. When designed and installed correctly a PV system will cause no damage to your roof whatsoever.
How long will a solar panel installation take?
Depending on the size and complexity of your project it should take no longer than one or two days to install a domestic system. If your home is a new-build, we will need to make several visits at key points during the build.
Can I install the solar panels myself?
We would strongly urge that you allow an MCS accredited, experienced installer to install your solar panels. This is because:
you must use an MCS accredited installer to receive the Smart Export Guarantee
the system contain live electrical components
an incorrectly installed system could negatively impact your property
you risk invalidating manufacturer warranties
Will I still have electricity if there is a power cut?
As a safety feature your inverter will not function if it can't detect a voltage from the national grid. If this feature did not exist then your system would be able to export electricity back to the grid even during a power cut, endangering anyone working to fix the problem.
Battery systems, however, can be designed to give you energy during a power cut.
Can I spread the panels across two roofs?
Yes. Your panels will bemanaged by an inverter system that usually has the ability to manage the data from panels on two roofs facing different directions (e.g. east and west).
What return will I get on my solar panel system?
This will depend on a number of factors, including system size and how much energy your house uses. Average return on investment for money spent on solar panels is about 9%.
Will a solar panel system add value to my house?
In our experience this can be very subjective. But, if you have a system designed and installed to complement the character of your home we generally find that the addition of solar PV is a major benefit. After all, a 5kWp system can produce about £800 of energy per year (based on a UK average electricity price of 16 pence per unit). Who wouldn't see that as added value?!
What happens to the energy I generate when I'm not at home?
Any electricity produced by your system will fulfill the demands of your home as a priority. If this demand is met then any excess electricity will be automatically exported to the grid. But, if you have a battery system however, you can store any unused electricity for use later. To understand more about how solar panels and a battery can work together have a look at our blog.
How do I decommission the system?
Only trained professionals should decommission your system(or carry out any other work). You must inform Western Power that your system is being decommissioned by filling out a Decommissioning Certificate and returning to them.
Why not just use a plug and socket to charge my electric vehicle?
Car chargers offer a convenient, fast and safe means of charging your electric vehicle. Some car chargers, such as the Zappi, are smart and can be integrated with your solar PV system and allow you to charge your car at off-peak times. To understand more about this have a look at our electric vehicle page and our blog.
How long will it take to charge my car?
This will depend on the size of your car battery, the charger's power output and the charging mode you select. Some cars can charge in as little as 30 minutes, while others may take 12 hours.
How much will using a car charger increase my electricity bills?
This will depend on the size of your car battery and the amount of use it gets. However, any increase in electricity cost is usually more than compensated for by a reduction in fuel expenses. The average off-peak electricity tariff is around 13p per kWh, so for around £3.64 you can fully charge an electric car at your home overnight.
With the Zappi car charger you can program to charge only during off-peak tariffs, keeping your costs to a minimum. So while you're sleeping at night your car will be topping up its battery, ready for use in the morning. The Zappi can also work alongside your solar PV, allowing you to top up your car battery with totally clean, free energy!
To understand more about how you can drive on free, solar energy have a look at our blog, Driving on Sunshine.
Will the car stop drawing energy once it's fully charged?
Yes. The chargers we install come with an auto-off function.
How will a car charger work with my solar panels?
If you want to travel by solar energy, the Zappi charger has software to allow it to interact with your solar panels. It will charge your vehicle with any excess solar energy once the needs of the household have been met. You can also customise how and when the Zappi draws power from your solar panels and the grid. To understand what's possible here, have a look at our Driving on Sunshine blog.
Will the car charger be secure against other people using it without my permission?
You can purchase a locking pin for EO chargers, which keeps them secure. We also recommend switching your charger off at the fuse board if you are away for an extended period of time.
Can I charge my car at work?
As electric cars become more popular, many businesses are installing charge points at their premises. If your workplace doesn't already have one, you could discuss the option with your manager. Charging at work is a great option, as your battery will be topping up while you're busy all day. There are currently grants available for businesses installing car chargers as well.
For more information on commercial chargers please see our commercial electric vehicle charging page.
Is it safe to charge my electric vehicle in the rain?
Yes. The charge points we install are weatherproof.
How long do car chargers take to install?
This differs from household to household, but we usually expect it to take half a day to install. The duration of the install will depend on a number of variables, including the route the cable must take from your fuse board to charge point.  
Where can I find public charging points in the UK?
How do I look after my solar PV system?
A solar PV system should be maintained and serviced to function at its best. Solar technology is a long term asset,and can last in excess of 25 years, as long as it's properly looked after. Maintenance must be carried out by an experienced professional, with the right technical background. It is advised to conduct occasional visual inspections of the array to ensure that there is no significant build up of dust and debris or any mechanical or animal damage. Panels have a coating which allows them to be 'washed clean' naturally by the weather. This can reducethe need for any manual cleaning, depending on the location and surroundings.To ensure you continue receiving the best from your solar PV system,we suggest that you have it serviced every 2-3 years.
Do batteries and car chargers need maintaining?
You'd be well-advised to consider maintenance for your battery and car charging systems, to ensure they remain safe and are performing at their best.
Batteries in particular are complex pieces of equipment which should, if properly looked after, last for many years. So, it's worth considering maintenance for your battery system. Checks can include visual inspections, cleaning and, where required, replacement (under warranty or otherwise).
If you have concerns about your car charger or battery or you're looking for a replacement, we'd be happy to help. Car chargers are essential once you have your electric vehicle and malfunctioning systems can be hazardous.
How much does maintenance cost?
This will depend on what service you need and how long we need to be on site. Our costs for carrying out a service start at £180 plus VAT and for call outs at £160 plus VAT. The engineer we send out to you will be very experienced and will always do their best to resolve issues there and then if they can. Where that's not possible, for example, if a replacement part is needed and it's not something the engineer has in their van, we will explain next steps to you, so you understand what's going on.
Even if you're not an existing SunGift customer, we're always happy to have a chat to you about your servicing and maintenance needs and what we can offer.
What should I do if my existing electricity meter starts running backwards?
In some cases, you may find that your electricity meter starts running backwards. If this happens, we would advise that you notify your electricity supplier. They will most likely replace your meter with an updated version that will not run backwards as you export electricity to the grid. This will avoid any complications with your electricity bills.
What if there's a fault with my solar PV system?
If you have remote monitoring for your system, we may be able to remedy the situation without conducting a site visit. However, the problem may actually be the monitoring
system itself. You can find this out by looking at your generation meter, is it clocking up generation? If it isn't, then there could be a fault with the system.
If you do not have remote monitoring, you can still give us some useful information. Is your inverter showing an alert on the screen? Is your generation meter clocking up
generation? If you have any concerns, please contact SunGift and tell us any of the
above information if you can. We will attempt to remedy the situation remotely. If we cannot, then we will provide you with a quote for sending out an engineer.
Will I have to pay for maintenance and repairs on my solar PV system?
We like to look after the systems that we've installed for the duration of their lifetimes.
In order to offer this service we need to cover our costs, which means that we may charge you for our time and any parts used. However, we will discount any compensation from the manufacturer where relevant.
All costs will be discussed and agreed upon prior to being incurred.
Manufacturer's warranty
If there is a fault with a product under a manufacturer's warranty (you should already have a copy of this), we will provide reasonable assistance with claims under this warranty, as we maintain good relationships with all of our manufacturers. Any compensation from the manufacturer for labour or access costs
(e.g. scaffolding) under the warranty will be deducted from our costs. Any costs that you must cover will be agreed with you before we fix the problem, so there will be no unexpected bills.
Workmanship warranty
Your installation is covered by the SunGift workmanship warranty for 5 years. If we agree that the fault is due to an error in our workmanship, we will fix the problem at no cost to you. Otherwise, our costs in remedying the fault will need to be covered by you. If it isn't initially clear whether the fault is due to an error in our workmanship, an investigation may be needed, and we will discuss and agree with you any potential costs before the work is carried out.
Fault not covered by warranty, or other cause of damage (e.g. rodent damage)
The labour, administration and access costs that we will need to cover in order to fix the problem will be discussed and agreed with you before we carry out any work.