AT A GLANCE
| | |
| --- | --- |
| Location: | SJ Sportscars, Crediton |
| No of LEDs installed: | 45 lights of various designs |
| Energy savings: | 76% saving on electricity bills |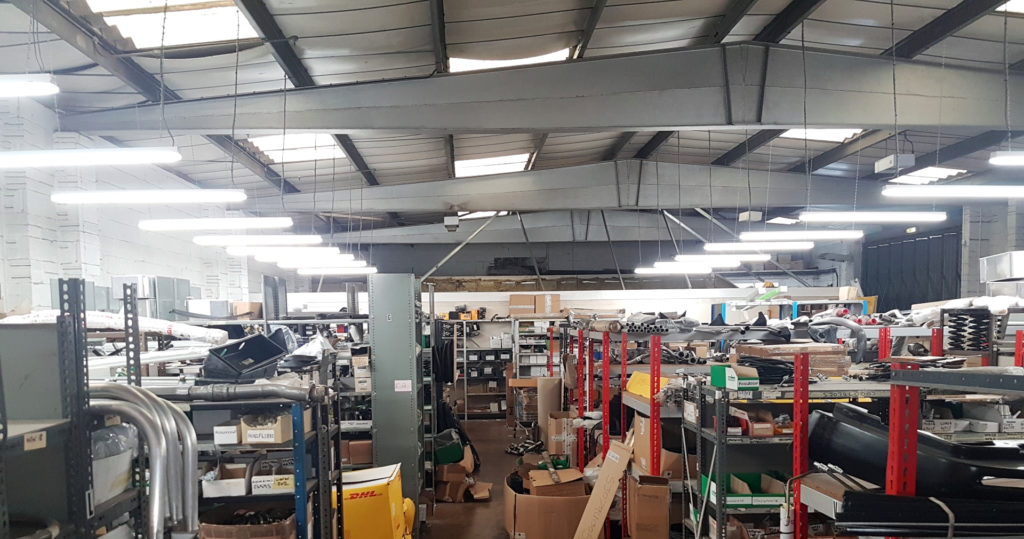 SJ Sportscars brighten up their workshop with LEDs
SJ Sportscars is a specialist sports car restoration company based in Crediton, Devon. SunGift were appointed to upgrade all the lighting in their workshop, shop, offices and stores.
The business is now more efficiently run, as the improved light levels help staff work on intricate tasks such as spotting blemishes on paintwork and fixing vehicle engines.
In addition to this, changing their previous high-bay lighting was a time consuming and expensive task as many vehicles had to be removed from the workshop to allow access. However, the longer lifespan of their new LED lights reduces hassle and maintenance cost. Based on their operating hours the lights are designed to last up to 18 years before needing replacing.  
The business also now has a reduced lighting use of 76%, saving in the region of £2,000 each year.
"The fitting was smooth and efficient and did not slow down  our operations at all." – Steve Roberts, Owner, SJ Sportscars
Taking away the hassle for workshops:
As an experienced LED specialist, SunGift:
Met with key staff to discuss the business' requirements
Carried out detailed site surveys
Provided all the facts in an open and honest proposal
Designed a bespoke system
Specified predicted energy and CO2 savings