In the largest ever survey of views on renewable energy, the UK came out overwhelmingly united in their opinions on the future of green energy. The Ørsted Green Energy Barometer surveyed over 26,000 people across 13 nations on various aspects of renewable energy. Participant countries included: Canada, France, China, Denmark, Germany, Japan, Poland, the Netherlands, South Korea, Sweden, the UK and the USA.
Over 2,000 people in the UK were asked where they would like to see more of their energy come from, and renewable came out on top – by a long way. Leading the pack was solar power, with a 77% majority vote, followed by tidal power and offshore wind at 71% and 70% respectively.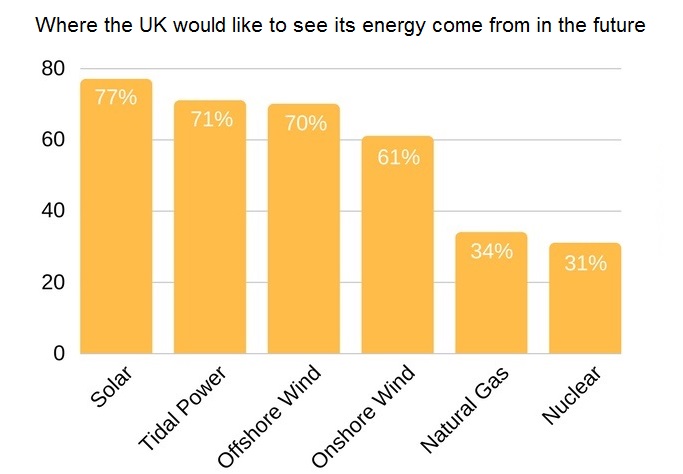 Falling to the back of the group – in terms of public support – are natural gas (34%) and nuclear (31%), despite these being the energy supplies most enthusiastically pursued by the UK government. The survey didn't even bother to ask UK participants about their views on coal, as it is to be phased out by 2025.
Support for green energy in the UK stems largely from our national pride about technology leadership, with 74% of people wanting the UK to become a global leader in the renewable energy industry. We also trust strongly in the economic benefits of going green, with 73% of people believing that building and producing more green energy will boost economic growth.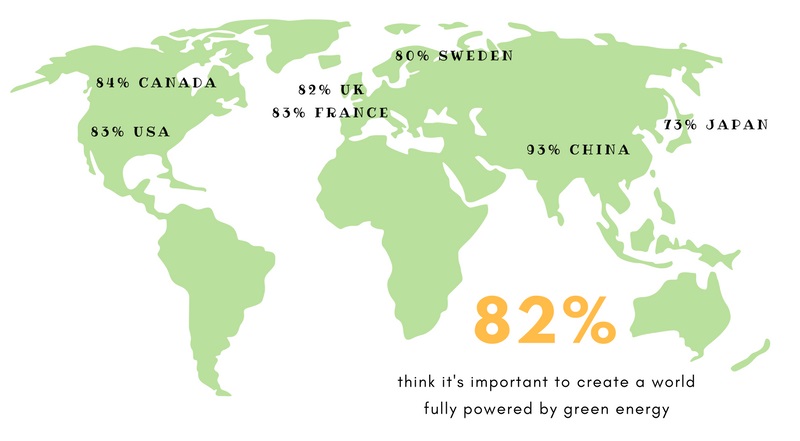 Encouragingly, similar views are held across nations, with 8 out of 10 people believing the world should run entirely on green energy. With this in mind, Ørsted chief executive Henrik Poulsen said: "We're at a tipping point. Green energy has become cheaper than black, and the newly released Green Energy Barometer shows an overwhelming public support for a shift from black to green.
"We owe it to the planet and to future generations to transform our energy systems from black to green. And with the economics and public opinion now supporting a shift to renewable energy, there's no reason not to speed up the transformation."
These inspiring results give us hope for the future of green technology in our society, with solar likely to lead the way.