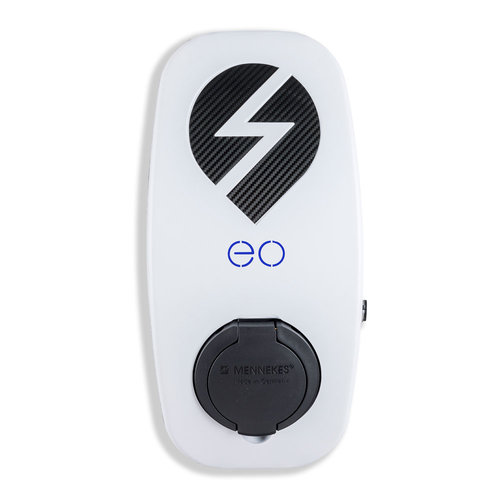 EO car chargers
The EO charger is simple, discreet and easy to use.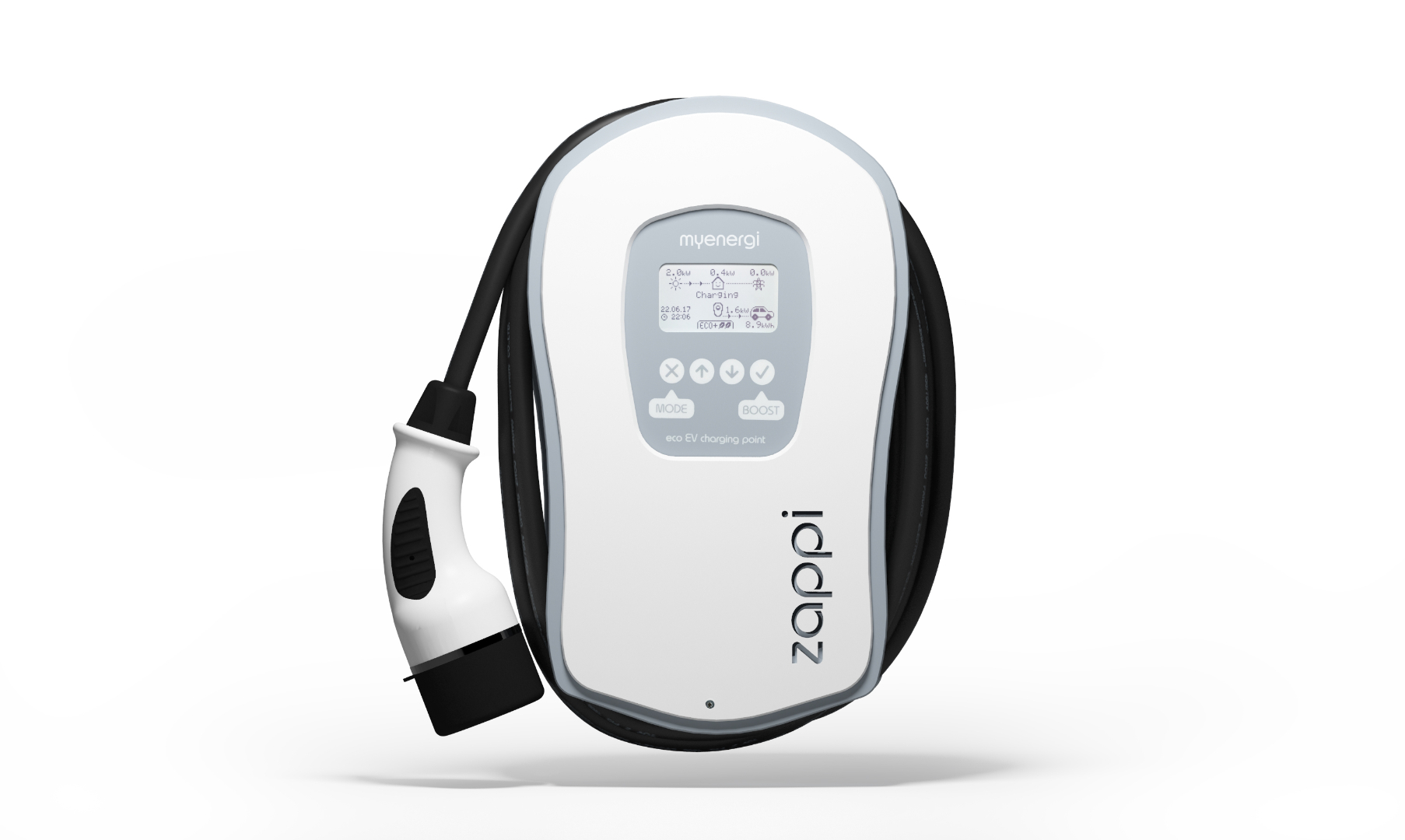 Zappi car charger
The Zappi charger has in-built software for full control of charging and can work alongside PV.
Electric vehicle charging solutions
If you've just bought an electric car, then one of your main concerns is likely to be, where do I charge it? For most people, installing a car charger at their home is the most convenient way to keep their car battery topped up. Although it is possible to charge an electric vehicle from a normal three-pin socket in the home, it is usually more convenient, faster and safer to use a dedicated charging point.
It's important to have your car charger installed by a qualified installer like SunGift, to ensure it's safe and complies with upcoming regulations. You can even claim £350 towards the cost of your car charger by choosing SunGift as your installer. The government are currently offering grants to support electric and hybrid vehicle users, through the Office of Low Emission Vehicles (OLEV), and SunGift are OLEV approved, although not every installer is.
As clean energy experts SunGift help home owners take control of their energy bills and become more energy self-sufficient. Consequently, households that combine multiple technologies, such as solar PV and energy storage with a car charger, maximise their energy independence and take full advantage of their technology.
SunGift offer two car charging options, the EO and Zappi, and you can find out which one is best for you below. You will also find the answers to some FAQs, and the steps we will take if you decide to install a car charger at your home.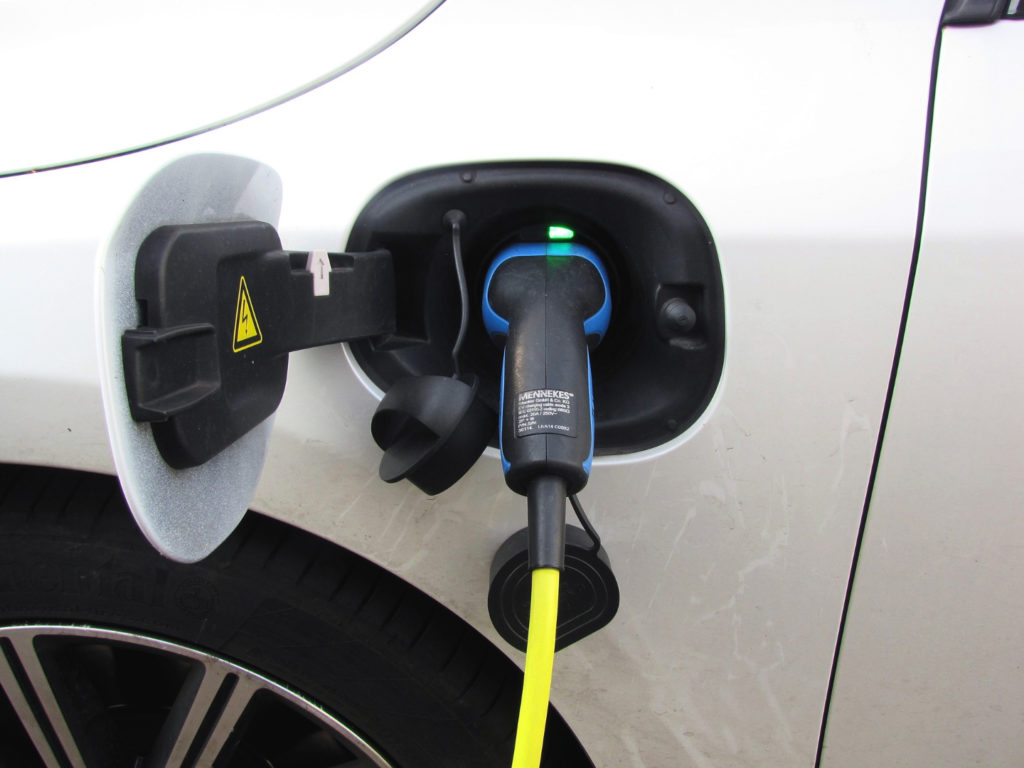 EO car chargers
A no-fuss charger, with no software or tethering cable
Just plug in and start charging your vehicle
The charger will automatically stop when your vehicle is fully charged
If you want to keep things simple, then this is the charger for you
Zappi car chargers
A sophisticated charger with in-built software and tethering cable
The Zappi is compatible with solar PV, and will use any excess solar energy to charge your vehicle
You can program the Zappi to charge your vehicle during off-peak electricity tariffs
If you want more control, then this is the charger for you
FAQs
What's the point of a car charger?
Car chargers offer a convenient, fast and safe means of charging your electric vehicle. On top of this, some car chargers, such as the Zappi, come with additional features including a tethered charging cable and software for customisable charging times.
How long will it take to charge my car?
This will depend on the size of your car battery, the charger's power output and the charging mode you select. Some cars can charge in as little as 30 minutes, while others may take 12 hours.
How much will using a car charger increase my electricity bills?
This will also depend on the size of your car battery and the amount of use it gets. However, any increase in electricity bills is usually more than compensated for by a reduction in fuel expenses. The average off-peak electricity tariff is around 13p per kWh, so for around £3.64 you can fully charge an electric car at your home overnight.
With the Zappi car charger you can program it to charge only during off-peak tariffs, keeping your costs to a minimum. So while you're sleeping at night, your car will be topping up its battery, ready for use in the morning. The Zappi can also work alongside your solar PV, allowing you to top up your car battery with totally clean, free energy!
Will the car stop drawing energy once it's fully charged?
Yes. The chargers we install come with an auto-off function.
How will the charger interact with my solar panels?
If you want to travel by solar energy, the Zappi charger has software to help it interact with your solar panels. It will charge your vehicle with any excess solar energy once the needs of the household have been met. You can also customise how and when it draws power from your solar panels and the grid.
Will the car charger be secure against other people using it without my permission?
As an addition, you can purchase a locking pin for EO chargers, which keeps them secure. We also recommend switching your charger off at the fuse board if you are away for an extended period of time.
Can I charge my car at work?
As electric cars become more popular, many business are installing charge points at their premises. If your workplace doesn't already have one, you should discuss the option with your manager. Charging at work is a great option, as your battery will be topping up while your busy all day.
Is it safe to charge an electric vehicle in the rain?
Yes. The charge points we install are weatherproof.
How long do they take to install?
This differs from household to household, but we usually expect it to take half a day to install. The duration of the install will depend on a number of variables, including the route the cable must take from your fuse board to charge point. Therefore, we assess all these variables during our no-obligation survey of your property.
Where can I find public charging points in the UK?